Dr. Niles Crane Quotes III.
Mittwoch, 19. September 2007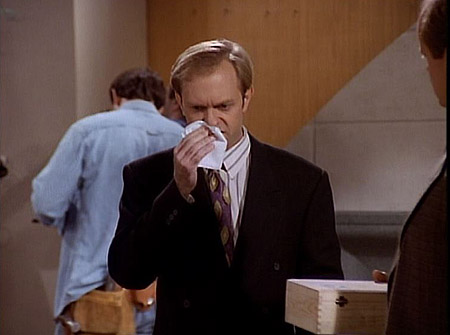 Frasier: Oh, I see you've got the Romanée-Conti.
Niles: Yes, but unfortunately they only had the one bottle.
Frasier: That's funny, the importer told me he had two.
Niles: Really? How strange.
Frasier: You know, if I didn't know you better I would swear you had squirreled one away for yourself. But then we both know that you must be telling the truth, because you're such a slave to your ethics that even the slightest transgression would cause your nose to bleed.
Niles: Which it isn't!
Frasier: You just sniffed.
Niles: I didn't sniff, it was a snort of contempt.
Frasier: A snort is out, that was in.
Niles: Oh, alright – the other bottle's in the car in my bowling bag.
Frasier: Thank you. You have a bowling bag?
Niles: Yes. Maris and I have taken to giving each other gag gifts. I gave her a cook book.
Dr. Niles Crane is a fictional character on the American sitcom Frasier. Niles is the younger brother of Dr. Frasier Crane.